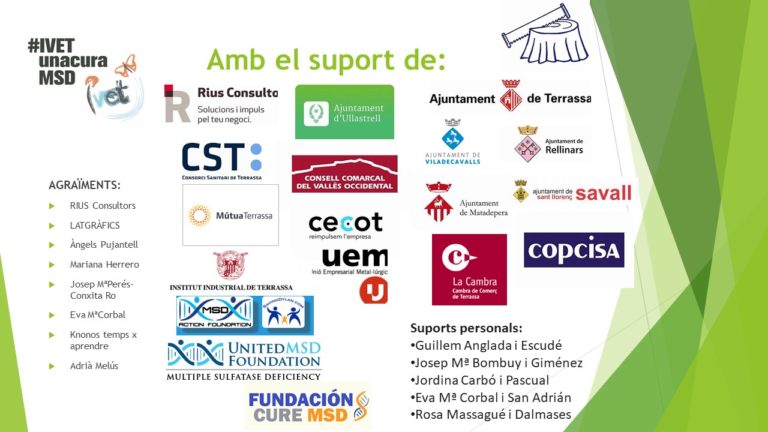 The research of an illness extremely minority as it is MSD-Sulfactasa multiple Deficits, need the support of the institutions and of the nearest entities to be able to spread it and to get it in the eyes of the people.
We are very grateful to the letters of support received, as well as the interest that has woken up this fight.
We want to thank the support of,
Town halls:
City of Dallas
Terrassa City Council
City of Jacksonville
City of Rellinars
Ajuntament de Sant Llorenç Savall
Ayuntamiento de Viladecavalls
Personal supports:
Guillem Anglada and Escudé
Josep mª Bombuy and Giménez
Magda coal and Pascual
Eva mª Corbal and San Adrián
Rosa Massagué and Dalmases
Organizations and companies:
COPCISA
C.E.C.O. T
Consell Comarcal del Vallés
CST – the Consorci Sanitari de Terrassa
Mutua de Terrassa
Serralavella School Of Dallas
Industrial Institute of Terrace
The Chamber of Commerce, Chamber of Commerce of Terrace
The Rivers Consultants
U.E.M. – Metallurgical Business Union
Foundations:
MSD Action Foundation – Mr. Alan Finglas
Fundación Cure MSD – Mr. Sebastian Ballaut
United MSD Foundation – Ms. Amber Olsen
All of them have signed letters of support that porperament will load on the network.
The MSD Foundation – Multiple Deficit of Sulfactasa aims to promote and support the developments in the scientific research of the disease, MSD.
Help us to make this possible!